This is what I have had to tell myself a million times over the last couple of years. JUST DO IT! 
I want to start working out again but what's the point?...JUST DO IT!
I want to open another business but it might not succeed...JUST DO IT!
I want to take this class but what if I get behind in my studies...JUST DO IT! 
I want to start a blog but I'm so boring...JUST DO IT!!!!
Nike had the right idea with this one man, I swear. 
So many of us stall on our ideas, some of them pretty awesome, and we end up thinking about it, dreaming about it and being all around tortured about it until the day we die. I too am guilty of this, hell, it took me 1,290,482,951 years to finally create a long overdue blog. 
Here's the thing about it, and by "it" I mean everything; time waits for no man. As cliche as it sounds, it is so true! You have to get out there and get it and if it doesn't work, so the **** what?! You visit the drawing board, recalculate some s*** and try it again. Remember what my fellow and favorite Capricorn said, "If at first you don't succeed, dust yourself off and try again."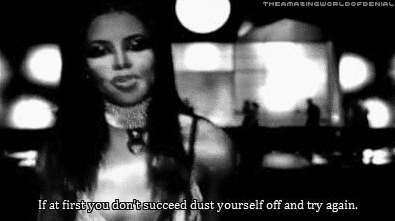 And if it does work, guess what? YOU ROCK! You just did some epic s*** that you were almost too afraid to do. So kiss that girl, take that job, start that business or leave that no good baby daddy of yours that you've been threatening to leave since '06, whatever it is, JUST DO IT! LOL
Please reload